From the Secretary's Desk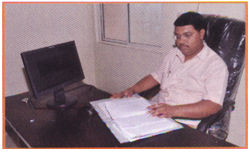 Rajiv Gandhi College of Engineering was instituted in 2012 and since its inception we have been aware of our strengths, motives and the goals that we have set ourselves to achieve.
When we embarked on this journey of sucess, all we had were the tools of vigilance, foresight and strategy. This paved a path of growth and quality operations. We combined these forces to tilt the balance of the future in favour of excellence and merit. Today, it is our endeavour to be one of the most competitive institutions in the country with emphasis on efficiency in operations, reliability for students and thrust on discovery and development of new technologies.
We are an organization that combines scientific, financial and operational skills and resources to rejuvenate your future. As our research assets, infrastructure and human capital integrate to result in an outstanding performance, they provide on impetus to the indian educational system as a whole.
Our first major camps was setup at karjule Harya (Takali Dhokeshwar), Ahmednagar, Maharashtra, where a state of art collge building fully equipped with labs, workshops, libraries and a Cafeteria has been constructed. To ensure a complete educational experience, there are well equipped labs, a computer centre with complete internet connectivity, a workshop with latest tools and machinery and comprehensive. Our counselling and placement cell provide assistance to students where needed. We undertake this pledge, to constantly strive and accomplish our dreams and goals to bring greater influence on the future
Hon. Kiran Laxman Aher
Secretary - Rajiv Gandhi College of Engineering